This is a very special seminar that we will be holding at Project Future Dojo this Fall. Lau Sensei will be joining us from Seattle, WA. All are welcome! Beginner or long time Aikido Practicers. Please support our little Dojo… With Gassho, Rev. Kanjin Cederman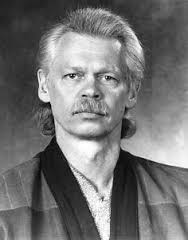 Bernie Lau (Founder)
Bernie Lau Sensei began training in 1955 under Koichi Tohei in Hilo Hawaii. Other sensei in Hilo responsible for Lau's early Aikido training included Nagata and Nonaka. While serving in the US Navy, Lau studied in Honolulu with the numerous Sensei, including Yamamoto, Goo, and Yoshioka. He was awarded his Sho Dan and Ni Dan in Japan,
his ranking certificates were personally signed by Morihei Ueshiba. He also received his San Dan and Yon Dan from O'Sensei son, Doshu Kisshomaru Ueshiba. Bernie Lau was the first 'Haole Boy' (Caucasian) to train in Aikido in Hawaii and in the United States. Hawaii back in 1955 was not yet a State but rather a territory.
Lau, despite his numerous years training in Aikido, resigned from Aikido to form the Washington Budokan, a private dojo, where he developed tactics and techniques more applicable to law enforcement and civilian self-defense. The result was a fusion of modified Aikido – Goju Ryu Karate and the finger locking methods of Wally Jay's Small Circle Jujutsu – plus the practical experience of being a police officer and undercover vice and narcotics detective.
Lau Sensei chose to use the term Aikijujutsu as a means to distinguish his teachings from Aikido and the politics that existed at that time. In 2003, the term Aikibudo was adopted for use with Icho Ryu. In 2015, based on his practice of Nichiren Shu Buddhism since the 70's, together with Kanjin Cederman Shonin, founded Jisso-kai.
Locker Rooms are available for changing.
10:30-12:00 Bernie Lau Instruction
1:00pm-1:50pm Kanjin Cederman Instruction
2:00pm-2:50pm Kanyu Kroll Instruction.
2:50-3:00pm Closing Ceremony and Appreciation